Inner Sanctuary, January Geenie Christal Jackson's powerful and practical tips on elevating the spiritual in modern life, was gifted exclusively to our GeenieBox members who also had the opportunity to ask questions during the live course.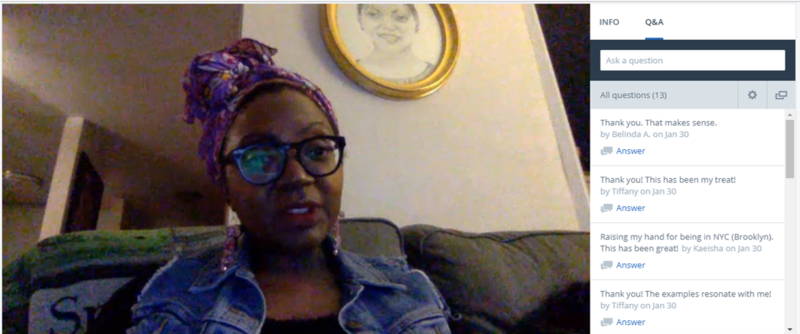 But the gems from this course are too good not to share! We're loving these tools for any denomination, any spiritual seeker, and we want to share the goods with you.
Geenie Masters Course I | 10 Tips to Inner Sanctuary by Christal Jackson RECAP

Be honest with yourself.

Christal- "If it's something where I feel like I can't bring my full, authentic self, then I know that I'm heading down a path that's going to be destructive." Be the authentic self. Tell yourself the truth. Straightforward and simple.

Be kind to yourself.

Insane demands are placed on modern women (did we really even need to say that?)and even more so on Black women. Couple that with negative cultural messaging and through a maliciously slow process, it's easy to develop an unkind way of dealing with yourself. Filter that noise and treat yourself with kindness - you deserve a

compassionate you

.

Honor how you feel.

"Oftentimes we don't even really know how we feel, and so we've not been able to articulate it." Figuring out complex feelings takes patience and self respect. Give yourself both.

Practice gratitude.

Gratitude attracts abundance, and not just in the material world, but the spiritual as well.

Create beautiful spaces around you.

On any budget! Surround yourself with things that elevate your spirit and bring you joy. Christal enjoys donning her couch with her beautiful Spelman alumni blanket.

Release the need to control every outcome.

Here's a doozy and a current working mantra for Geenie:

accept it all in 2019

. Acceptance can be exceedingly difficult, but real magic cannot work under rigid constructs (i.e. us control freaks); otherwise it wouldn't be magic.

Practice forgiveness daily.

Every. Damn. Day.

Learn to ask for help.

Support from the right people will always lead to spiritual development. And asking for help signals strength, not weakness.

Exercise.

Commit to exercise at least three times per week. Body, mind, spirit: all must be healthy in the authentic self.

Create boundaries, not walls.

Christal spoke about the difference between boundaries and walls, and a few personal light bulbs went off. These two are easily confused both in theory and practice, but it's all so simple: Walls keep people out. Boundaries allow people in BUT with parameters that safeguard our dignity. Kind of a crucial differentiation. #boundariesnotwalls
HOW TO GET INTO FUTURE COURSES
We love learning, and we know you do too. So we're spreading the love.
Our Geenie Masters series feature brief courses with practical tools on everything from boss life to home life, to that very full life inside your head - it is an exciting new repertoire offered COMPLIMENTARY to a GeenieBox subscription.
Non-members on our mailing list can also access the courses through a paid opportunity offered via email. Keep checking that inbox and don't miss the next class!